US Postal Service Money Order
A money order is a document that is similar to US currency. It can be purchased in different amounts and it can be mailed anywhere in the US. A money order only has the dollar amount printed out. The remaining items are left blank. A purchased one is like a signed check, it's the responsibility of the purchaser to enter in who the money order is payable to. If they do not do then, this anyone could cash it. It is required that a money order be made payable to a single identifiable party. Postal money orders are prepaid drafts drawn against the Postal Service's account with the US Federal Reserve.
Customers have the option to send a money order in US currency to certain destination countries. The MP1 Direct Exchange Money Order is the only international money order currently offered by the US Postal Service. Check the MP1 Acceptance Countries list below to find out if you can send a MP1 to that country.
MP1 Acceptance Countries
| | | | |
| --- | --- | --- | --- |
| Albania | Anguilla | Antigua & Barbuda | Bahamas |
| Barbados | Belize | Bolivia | British Virgin Islands |
| Canada | Cape Verde | Dominica | Dominican Republic |
| Ecuador | El Salvador ($500 max) | Grenada | Guinea |
| Guyana ($500 max) | Honduras | Jamaica | Japan |
| Mali | Montserrat | Peru | Sierra Leone |
| St. Kitts & Nevis | St. Lucia | St. Vincent & the Grenadines | Trinidad |
| Tobago | | | |
How to Buy a Money Order
A money order can be purchased through the following options:
Domestic Money Orders
A Post Office facility
Branches
Stations
Rural carrier
Some Contract Stations
Military Money Orders
Military money orders must be purchased at an APO/FPO/DPO facility
International Money Orders
To find a post office that sells international money orders, call 800-275-8777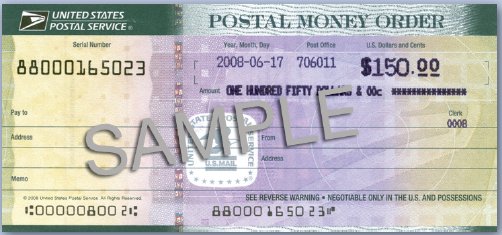 Money Order Fee and Purchase Limits
Fees vary depending on the amount of the money order and whether it is for domestic or international use or is being sent to an APO/FPO/DPO address. Below, we list the money order purchase limits:
The single money order maximum is $1,000.00 if sending within the United States
For international money orders, the maximum amount varies by country, but cannot exceed $700
Multiple money orders may be purchased during the same visit (no daily limit)
If you purchase more than $3,000 in money orders, you are required to complete a special form and produce acceptable ID
How to Pay for a Money Order
Below is a list of ways you can purchase a money order:
US currency and coins
Established Traveler's Checks payable in US dollars if the purchase is for at least 50% of the value of the Traveler's Checks
ATM/Debit Cards at locations where the customer's PIN must be entered on a keypad connected to a Credit/Debit terminal
Checks are not accepted to purchase money orders
Credit cards may NOT be used to purchase money orders
Replacing a Money Order
If the money order has become damaged, unused or spoiled then follow the instructions below to replace it.
The US Postal Service replaces, without charge, a damaged or defective money order or one that is "spoiled" during imprinting or customer completion if the customer returns the negotiable portion of the money order and the matching customer receipt. There are no stop payments on postal money orders.
As an example, if you purchase a postal money order for a friend, fill it out to your friend, and then decide not to give it to that friend, you cannot take the it to a post office location with the original receipt to cash it. Instead, you would need to replace the spoiled money order, then make the money order out to yourself, and from there you would need to cash it.
To have a spoiled or damaged international or domestic money order replaced take both of the following to a local Post Office facility:
The original Postal Service postal money order
The purchase receipt for the original money order
Fill out PS Form 6401 (Money order inquiry)
The money order will be immediately reissued
Please note, when replacing a money order using this procedure, there is no fee (for either PS Form 6401 or the new money order). You will not be given a refund, but you can write your name as the recipient on the replacement money order and cash it.
If you don't have the original money order purchase receipt, fill out a PS Form 6401 with all of the required information and submit it along with the money order to:
MoneyOrder Branch
Accounting Service Center
United States Postal Service
PO BOX 82453
St Louis MO 63182-9453
Filing a Money Order Claim
If you need to find out if a money order has been cashed or need a copy of the cashed money order, then you would need to follow the process below.
The customer must take the original money order purchase receipt (that was attached to the money order) to the Post Office. There you will need to complete PS Form 6401. If appropriate:
Customers may file a money order inquiry at any time after purchasing the money order
For a domestic money order inquiry, it may take up to 60 days to receive information
A photocopy of the cashed money order is only available for 2 years from the date it was cashed
The next step is to pay the applicable fee. If appropriate:
The money order inquiry fee is per item and provides a copy of the item if cashed
The fee is not required if PS Form 6401 is filed by a bank, another financial institution, a government agency that processes money orders directly with the Federal Reserve Bank, or a Postal Service official engaged in official USPS business
If you have additional questions or issues about postal money orders, then we suggest you find a local post office and talk to them.